一、结直肠癌肝转移治疗概况




肿瘤介入放射学在美国,缓慢成长,被业界有限关注和仅获得低水平的基金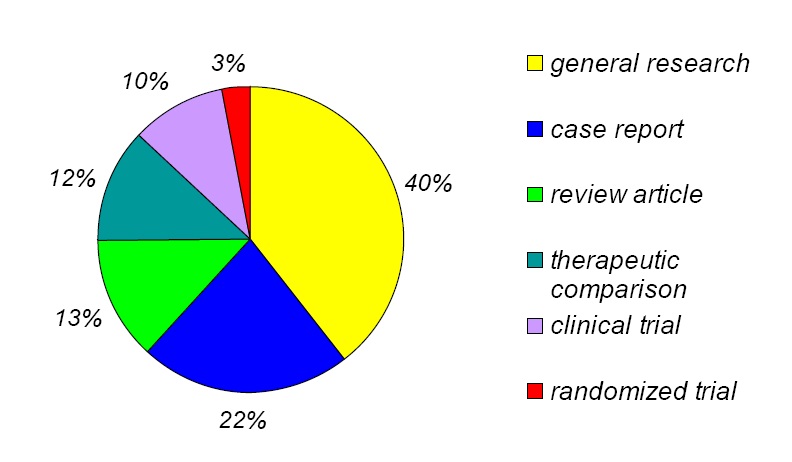 WORLD ARTICLES BY STUDY TYPE







一、结肠癌肝转移介入治疗的历史

结直肠癌辅助化疗的历史始于1950~ 结肠癌术后化疗始于50年代应用塞替派(Thiotepa)开始。当时是由美国退伍军人管理局肿瘤外科组(Veterans Adminidtration Surgical Oncology Group ,VASOG)提出的。比较术后应用于不应用塞替派患者的5年生存率。1961和1962年发表两项多中心研究,1750例表明,5年生存率分别为55%和53%(1961)。未能证明塞替派对结直肠癌辅助治疗有效【35】。

早期临床试验未能证实包括塞替派、5-FU、FUDR和Me-CCNU等化疗药物与单纯手术切除对患者生存率的影响,两者没有显著的统计学差异。




同样是1988年,NSABP C-01的结果表明,Dukes′B期和C期结肠癌术后进行辅助化疗(MOF方案,379 例)与单纯手术(394 例)相比较,可改善 5 年生存率(67%vs.60%,P=0.07),此研究结果被后来发表的多中心研究证实。如5-FU/左旋咪唑(Levamisole,Lev)和 5-FU/醛氢叶酸(Leucovorin , LV)作为结肠癌术后辅助化疗方案,确实能提高无病生存率和总生存率。

1990~ NIH 于1990将5-FU/LV辅助化疗方案作为III期结肠癌术后的标准治疗。1994年,IMPACT的研究确定结肠癌术后应用5-FU/LV优于单独手术【4】。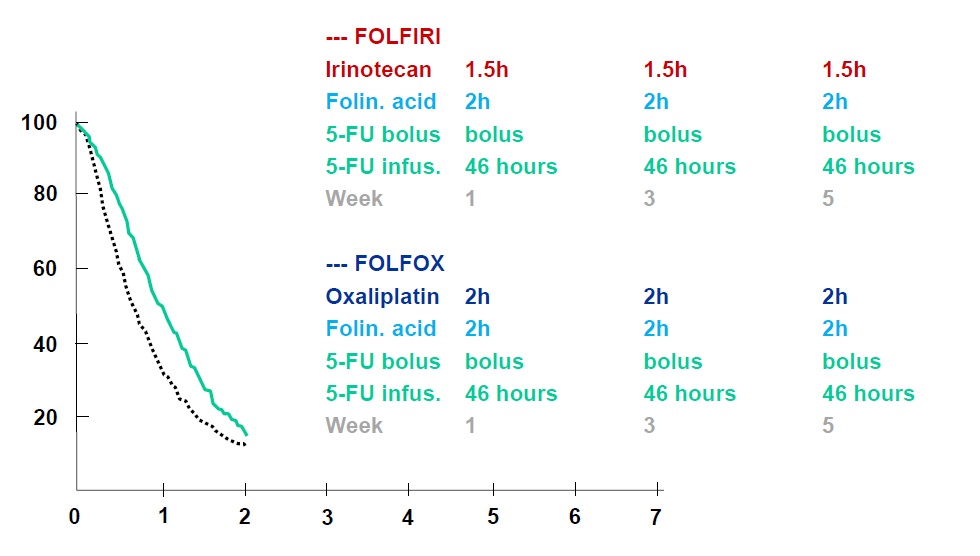 Colorectal cancer: survival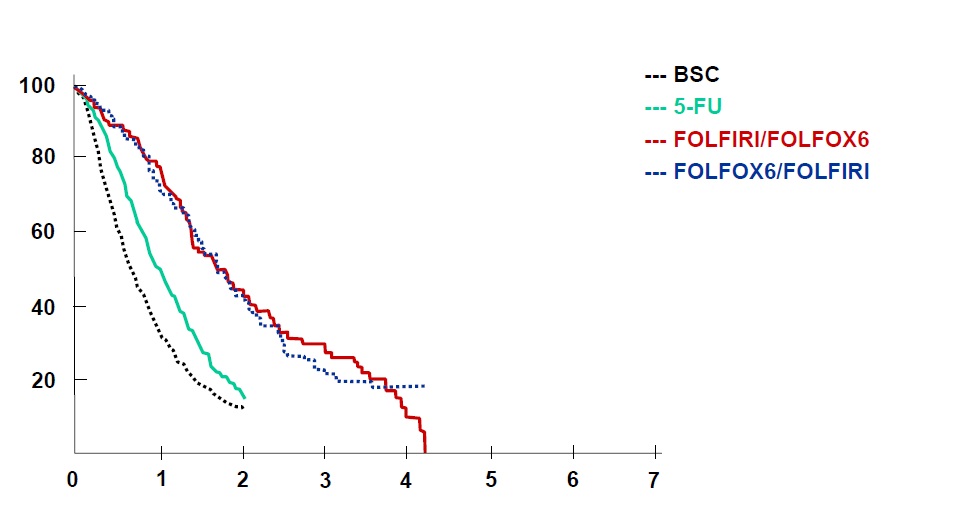 EGFR- antibodies and KRAS status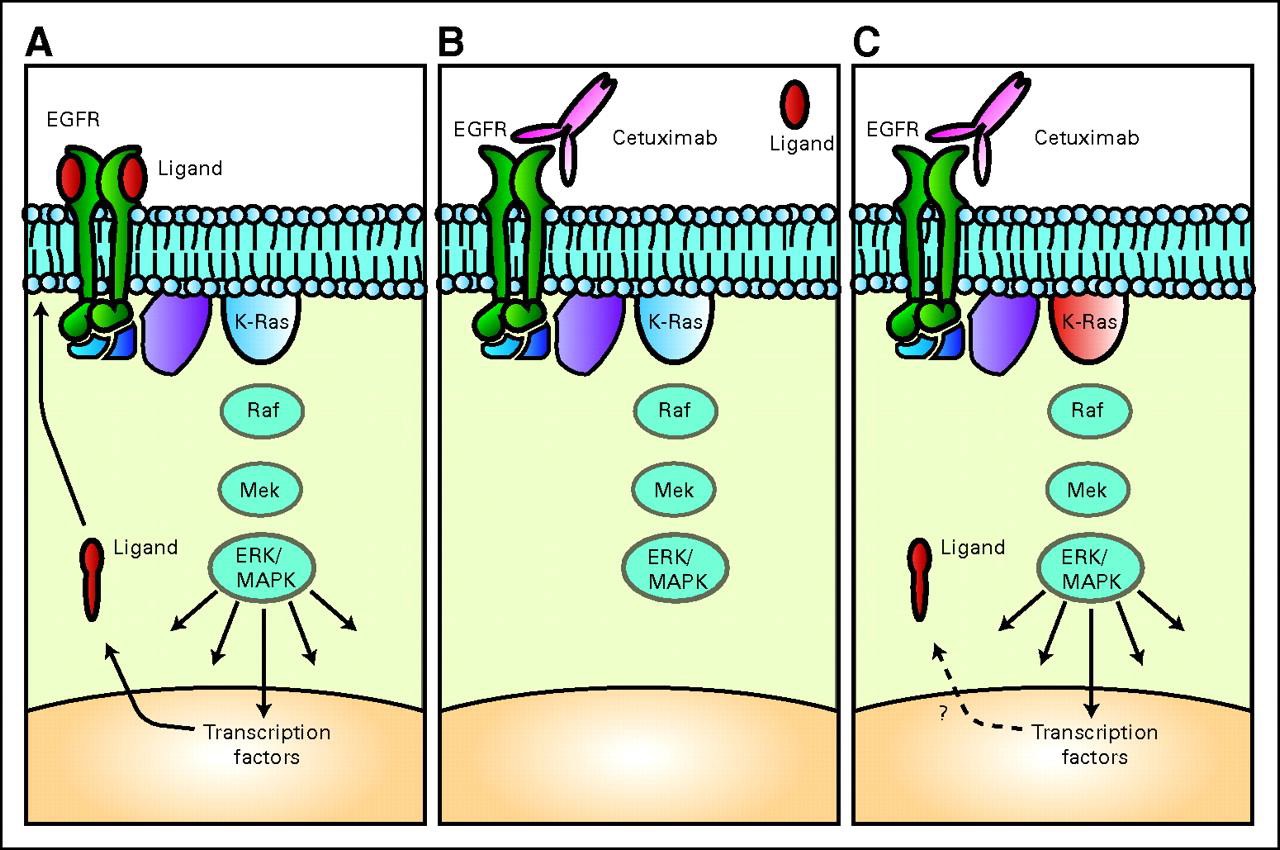 EGFR =epidermal growth factor receptor] 表皮生长因子受体

Ligand = 配体,同锚定蛋白结合的任何分子都称为配体(ligand)

Cetuximab = 西妥昔单抗,西妥昔单抗 属于嵌合型IgG1单克隆抗体,分子靶点为表皮生长因子受体(EGFR)。EGFR信号途径参与控制细胞的存活,增殖、血管生成、细胞运动、细胞的入侵及转移等(百度)。


| | |
| --- | --- |
| | |
| KRAS mut = 突变性基因 | KRAS wild type = KRAS野生型基因 |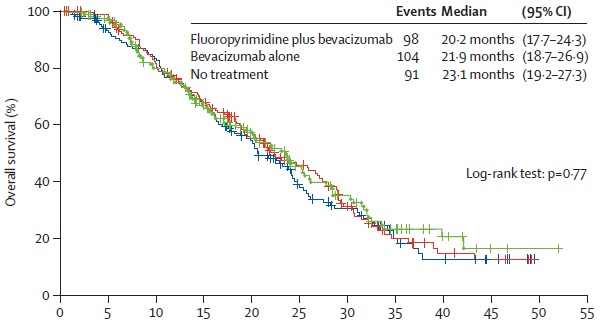 Although non-inferiority for bevacizumab alone was demonstrated for the primary endpoint, maintenance treatment with a fluoropyrimidine plus bevacizumab may be the preferable option for patients following an induction treatment with a fluoropyrimidine, oxaliplatin, and bevacizumab, as it allows the planned discontinuation of the initial combination without compromising time with controlled disease. Only a few patients were exposed to re-induction treatment, thus deeming the primary endpoint time to failure of strategy non-informative and clinically irrelevant. Progression-free survival and overall survival should be considered primary endpoints in future trials exploring maintenance strategies.
CAIRO3 OVERALL SURVIVAL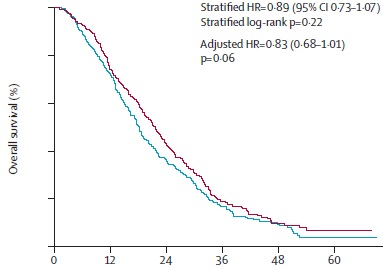 观察组和维持组比较 22.4 vs. 25.9 mo
Maintenance treatment with capecitabine plus bevacizumab after six cycles of CAPOX-B in patients with metastatic colorectal cancer is effective and does not compromise quality of life.

AIO progress free survival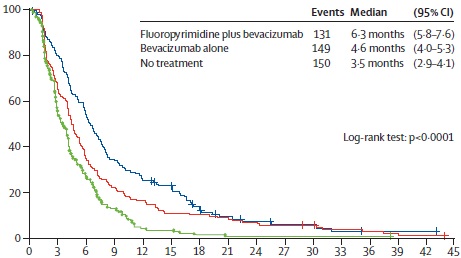 Hegewisch-Becker Lancet Oncol 2015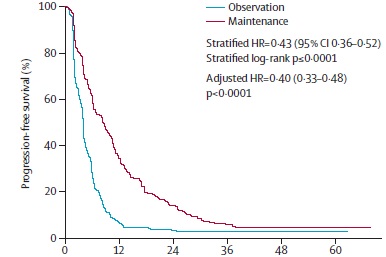 Simkens Lancet 2015
4.1 vs. 8.5 mo
CELIM: Blinded surgical review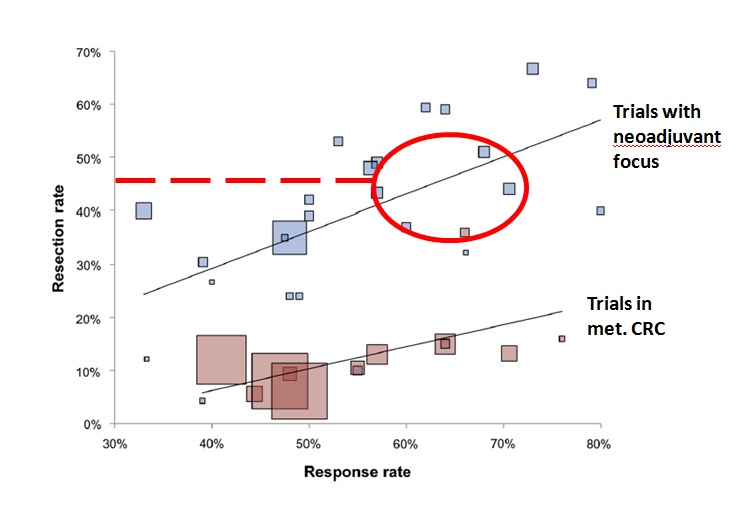 Our results showed no evidence of an advantage in progression-free survival or overall survival for the IHA group; thus continued use of this regimen cannot be recommended outside of a clinical trial. (动脉灌注化疗与静脉化疗比较在PFS和OS上没有优势,不推荐临床实验以外的应用)





*3 patients are not shown: 122026 (IHC 2+,not yet assessed); 121011 (IHC 3+) and 121013 (IHC 3+) early clinical PDs



Giannakis, ASCO 2015


Comprehensive molecular characterization of colorectal cancer reveals genomic predictors of immune cell infiltrates.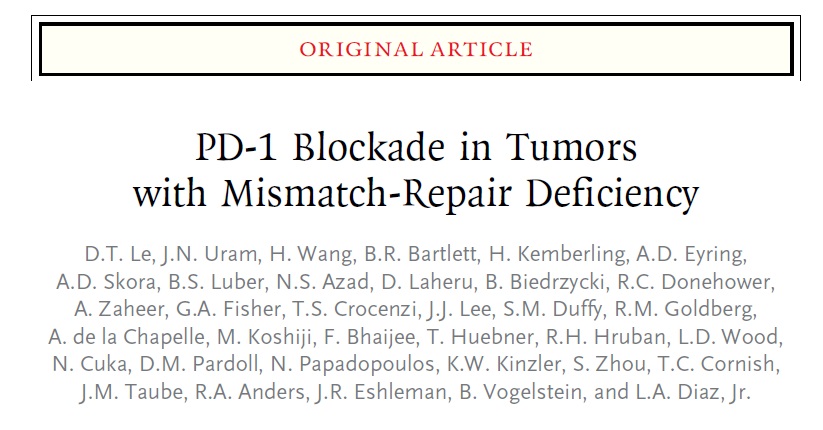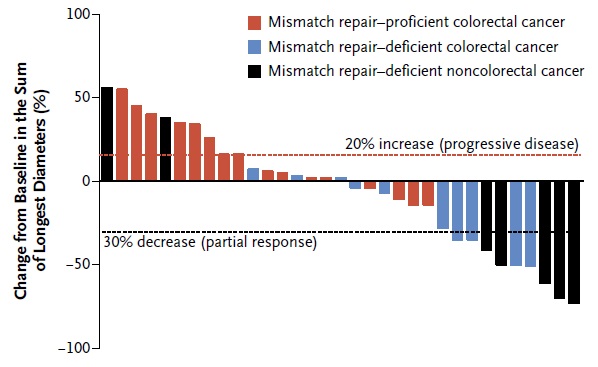 二、结肠癌肝转移介入治疗的现状和角色:

传统结直肠癌的围手术治疗包括 肝转移癌的新辅助治疗、肝转移癌的辅助治疗、肝转移癌的转化治疗、肝转移癌围手术期化疗(新辅助+辅助)以及肝转移癌的姑息化疗治疗。在这些传统治疗方法中,介入治疗究竟可以或已经扮演什么样的角色?定义如何?结果又如何呢?先看定义。

1. 结直肠肝转移癌经导管治疗新辅助治疗(Neoadjuvant):可一期切除的肝转移癌,外科术前进行经导管肝动脉灌注化疗。 术前治疗预防结肠癌肝转移,即结肠癌切除前进行肝动脉或结肠癌供血动脉的灌注化疗,所谓新辅助治疗。它应该还包括单独介入灌注化疗,全身化疗的联合和单一治疗间的对比,以及结肠癌切除术围手术期的化疗对比,如术前化疗+术后化疗 vs 单一术前化疗等。目的是减少肝转移癌发生率或推迟肝转移癌发生的时间,或改变肝转移癌发生的形式,提高结直肠癌手术切除的生存率。(chemotherapy given to facilitate surgery)

2. 结直肠肝转移癌经导管辅助治疗(adjuvantive):是指可一期切除的肝转移癌,外科切除术后进行经导管肝动脉灌注化疗(chemotherapy post surgery)

3. 结直肠肝转移癌经导管转化治疗(conversion therapies):经导管肝动脉灌注后,将不可一期切除的肝转移癌变成可一期切除的肝转移癌(down staging)。

4. 结直肠癌肝转移经导管围手术期化疗:对于可切除肝转移癌进行外科术前、术后经导管化疗


5. 结直肠癌肝转移癌的经导管姑息治疗:对永久不可切除的肝转移癌进行经导管化疗。





结直肠肝转移病人预后差。只有少于25%的患者有机会进行治愈性切除或经皮消融,他们其中70%的患者治疗后3年内消逝【1】。

经静脉全身化疗首选5-FU联合伊立替康或奥沙利铂和单克隆抗体的治疗反应率为31-62%,中位无进展期(Progression free survival,PFS)为6.9-10.6个月,中位整体生存率(overall survival,OS)14-21.5个月【2-5】。但是,对一线治疗不敏感的患者,二线或三线全身治疗疗效也不好,RR 4-21%,中位PFS 2.5-4.8【6-8】。

尽管基于导管治疗肝脏肿瘤有许多优势,并且在过去10年越来越多地在临床得到应用。但当与全身化疗和最好的支持治疗比较,仍然没有证据表明结直肠癌肝转移患者经肝动脉经泵灌注化疗(HAIC),或隔离循环化疗(isolated hepatic perfusion ),经肝动脉栓塞治疗(TACE)或经肝动脉放射治疗(TARE)治疗后可以分别提高提高生存率和改善PFS 。但是这些治疗的局部反应率和转化到可切除性一直以来显示可能对拯救病人(salvage patients) 。

2007年10个RCT研究表明肝动脉灌注化疗与全身化疗比较,并不改善病人的生存率【9】。但是,对于一线治疗失败的患者,肝动脉灌注化疗联合全身治疗可以改善病人无进展生存期4-7个月【10-12】。转化为可切除性转移癌达到35-47%【11,13】。

静脉化疗后进展的病人,隔离式循环化疗局部反应率可以达到60-80%,PFS可以达到12个月【14,15】。

药物洗脱微球可以提供有控制的药物释放到肿瘤,减少静脉化疗对全身的副作用,并改善TACE 可重复性。伊立替康对于治疗结直肠癌肝转移是一种强有力的药物,体内高清除率和高肝分泌率,适合经动脉肝治疗。

应用伊立替康荷载药物洗脱微球进行结直肠癌肝转移的治疗,有报告可以包括两叶动脉的同时栓塞,间隔3-8周时间进行下一次栓塞。考虑到转移性疾病的播散"叶动脉栓塞(lobar treatment)似乎是必须的。但是如果术前影像显示肿瘤大部分在有限肝段内,经导管治疗可以在叶动脉注射前进行选择性肝段动脉注射以增加潜在的疗效。这一技术应用在30/74例的研究中并没有并发症的增加【25】。


(责任编辑:Mr.Editor)